Rescuing Evacuees from the Hurricane Katrina Disaster
In September 2005, Frank Stronach initiated the evacuation of hundreds of victims of the Hurricane Katrina disaster. The following is an article published in the Fall 2005 Special Edition of Magna People, Magna's employee newsletter, which describes the events surrounding the rescue:
Magna founder and Chairman Frank Stronach was sitting in a hotel room watching TV news reports of the worst natural disaster in US history. Hurricane Katrina caused flooding and damage that left close to one million people along the Gulf Coast homeless and in need of food and shelter. Most of the hardest hit victims were seniors and the very poor. Watching images of homeless and helpless people trying to flee New Orleans, Frank remembered his own upbringing in war-torn Austria – a time when he was poor and hungry. Those experiences, said Frank, "are burned right into the soul."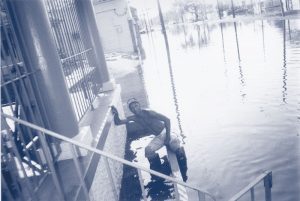 He picked up the phone and got in touch with some of Magna's senior executives. He asked them to put together an emergency rescue plan to move hundreds of evacuees by bus and plane to a Florida horse training facility in West Palm Beach.
The very next morning, a team from Magna was on the ground organizing supplies of food, water and clothing and arranging transportation for the evacuees. Working with the US Army and Air Force, as well as the American Red Cross, the Magna team successfully evacuated 250 people.
One of those people was Harold Brooks, who lived in the Bywater district of New Orleans, just six blocks from the Mississippi River and close to one of the two main canals that broke, leading to the massive flooding that left hundreds of thousands of people homeless. Just before Hurricane Katrina reached shore, Harold made sure that his mother, his two sisters – one of whom is handicapped – and his nieces and nephew left town in the one car they all shared. Harold gave them the last few dollars he had for gas money.
After the hurricane flooded his home, the search-and-rescue operations were temporarily suspended and all water and gas were cut off. In the days that followed, Harold would make his way up and down the flooded streets, taking food to families that had been stranded in their homes and checking in on his neighbours. He remembers seeing bodies floating past him down the street: "I didn't look too close because I didn't want to see who it was." When he was rescued, he was wading through the flood waters and trying to coax a mother and her three children to leave with him. She didn't want to abandon her damaged home.
More than 1,000 volunteers, doctors, nurses and chefs were waiting at the Florida training facility to lend a helping hand as the New Orleans evacuees arrived. Among the evacuees were many families with small children, seniors and disabled people. Some were wearing nothing more than shoes and a blanket. Many were carrying all of their possessions in a garbage bag.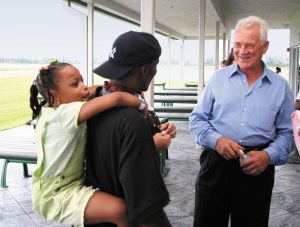 "Helping people, feeding them and giving them temporary shelter – that's the easy part," said Frank. "The challenging part is what we do to get them back on their feet again."
Finding shelter for hundreds of Louisiana evacuees was only the first step. The next, and more difficult step, was finding a way to help them rebuild their shattered lives. And to do that, Frank came up with the idea of buying some land and building a community from scratch for the hundreds of Magna evacuees on a 1,000-acre parcel of land in Simmesport, Louisiana, north of Baton Rouge.
According to Frank, the community gave evacuees "a fresh start and a new life." More importantly, he added, the community gave the hurricane survivors a chance to become self supporting. "We feel responsible for the evacuees," said Frank. "They're our adopted community."
Source: Fall 2005 Special Edition of Magna People, Magna's employee newsletter
---
The B'nai Brith Award of Merit for Humanitarian Service
The following are comments made by U.S. Consul General Jessica LeCroy at the B'nai Brith Award of Merit dinner in Toronto on September 13, 2005. Magna Founder Frank Stronach was named the 2005 recipient of the Award of Merit for his humanitarian contribution to the evacuation of victims of the flooding and damage caused by Hurricane Katrina.
 "While you in Canada know Mr. Stronach as a modern-day success story and a titan of industry, it is his most recent gesture of extraordinary philanthropic vision for which I would like Mr. Stronach to be acknowledged tonight.
We have heard that when Hurricane Katrina hit the Gulf Coast two weeks ago, Mr. Stronach saw people in need and immediately looked for a way to help. Last week he was in Florida visiting with the nearly 300 evacuees he had already airlifted from Louisiana who now call his new training facility in Palm Beach home.  There they receive medical attention and clothing, are being housed in comfortable quarters, fed in a modern cafeteria, and then, in a short while, will be offered permanent housing in a new 1,000-acre mobile home village back in Louisiana.
Being from Mississippi – from a region where Hurricane Katrina hit – and having spent most of my professional foreign service life in devastated countries filled with desperate, displaced persons, I admire the efforts of Mr. Stronach and am very touched to participate tonight in this event to honor Mr. Stronach.
Ambassador Wilkins in his Open Letter to Canada thanked all Canadians for their generous outpouring of relief assistance to the victims of Hurricane Katrina. He asked me to repeat our gratitude to this audience to tonight. You were there for us after 9/11 when 26 Canadians also lost their lives, and you are there for us now when Canadian lives were thankfully spared.
A million people have been displaced in my country  – not since the Dust Bowl of the 1930s have so many Americans been on the move or living in the rough. From my work I know that a basic human need – perhaps stronger than finding food or finding shelter – is finding a home. What more noble endeavor can there be than helping those who have lost home find home.
Frank Stronach has said that his own experience as a kind of displaced person is 'burned right into the soul.'  It is his special spirit of optimism and faith in the goodness of life which evoked such a powerful and immediate response to help my people displaced by Hurricane Katrina find home.
And it is people like Frank Stronach who make Canada such a great country, such a great neighbor, and such a great friend. Thank you."