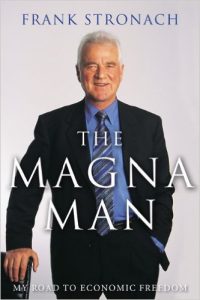 The Magna Man
My Road to Economic Freedom
---
One of the world's most innovative business leaders shares his passion, wisdom and insight
Frank Stronach came to Canada from Austria with a few dollars in his pocket, a lot of hustle and a hunger to succeed. In a few short years, the young Stronach went from washing dishes to starting up his own tool and die shop in a rented garage, working long hours and sleeping on a fold-up bed next to his machines. He would build that small shop into Magna International Inc., one of the world's biggest auto parts manufacturers, with115,000 employees in 26 countries.
For the first time, and in his own words, Canada's greatest industrialist tells the remarkable story of how he overcame hardship and heartache to climb to the top of one of the world's most competitive industries. And along the way, he shares the formula behind his company's spectacular success: the unique business philosophy he created known as Fair Enterprise. It's a can't-fail formula that has fuelled the company's unstoppable growth and allowed Magna to share billions of dollars in profits with its employees, managers, shareholders and society.
The Magna Man is not only an inspirational story of business triumph and innovation, it's an invaluable guide for anyone eager to start their own business, acquire the skills of a highly effective leader, or make a difference in the world around them.
Frank Stronach was inducted into the Canadian Business Hall of Fame and is a member of the Order of Canada. He is a passionate philanthropist, having provided assistance to a wide range of charitable and community service organizations. He has received numerous honorary doctorates and is one of the world's leading Thoroughbred race horse owners and breeders.
---
Franks Welt | Franks World
Wahrheit, Transparenz und Fairness in Politik und Gesellschaft
(Truth, Transparency, and Fairness in Politics and Society)
---
Franks Stronach als Kolumnist der Kronenzeitung – hier finden sie seine gesammelten Kolumnen und Artikel in gebundener Form)
(Frank Stronach as a regular contributor for Austrias largest newspaper "Kronenzeitung". In this book all his articles have been combined into one piece of relevant socio-economic statement.)