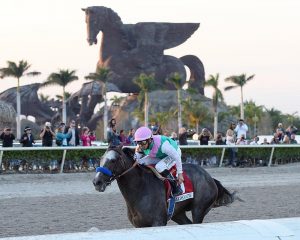 Pegasus World Cup Invitational
Here is what Franks says:
" We wanted to create a classic race, like the Triple Crown or the Breeders' Cup, that would attract the best horses in the world. But we also wanted to do something very innovative that had never been done before.
That's where we came up with the idea of having 12 horse owners each kick in $1 million for a spot at the starting gate, with all of the owners sharing in the profits from the race and one of us going home with the biggest purse in history.
Finally, we wanted to enhance the entertainment around the race and offer not just great live racing but also great music and food and great fun—an overall unforgettable day at the racetrack."