Current Projects
---

Adena Farms: 95,000 acres (38 hectare) of wide-open pastures, ponds and woodlands that provide a stress-free environment where our animals roam and live naturally.
read more: Adena Farms
---

Adena Golf & Country Club
Frank Stronach envisioned a place where families could share experiences. Where time spent together was of the highest quality. A place that could be admired, not only for its masterful craftsmanship, but its respect for the natural surroundings.
Nestled on a beautiful parcel of emerald-green grassland in the Horse Capital of the World, the Adena Golf & Country Club quietly takes in everything Ocala, Florida has to offer.
read more: Adena Golf & Country Club
---

Pegasus & Dragon is a monument and also a monumental engineering project, to create one of the worlds largest bronze structures.
In 2011, Frank Stronach, drafted the initial rough sketch of a massive horse sculpture to honor the great contributions that horses have made to human civilization throughout history.
Five years later, the result of Frank Stronach's tribute is Pegasus and Dragon, an iconic monument that pays homage to the courage, speed and power of the horse. The monument features Pegasus, the winged horse of Greek mythology, standing triumphantly over a fallen dragon.
read more: Pegasus & Dragon Monument
---
Pegasus World Cup Invitational
Here is what Franks says:
" We wanted to create a classic race, like the Triple Crown or the Breeders' Cup, that would attract the best horses in the world. But we also wanted to do something very innovative that had never been done before."
read more: Pegasus World Cup Invitational
---

As an owner, my one overriding goal is simple and straightforward: to breed and develop an extraordinary horse, the kind that comes along once in a lifetime, one whose name will live on for generations. That's what drives me.
read more: Frank and his horses
---
---
Project history
This is only a short summary of some of the most interesting projects out of Frank Stronachs huge portfolio.
As his lifes work is too diverse and complex to show each and every project, Frank selected his personal favorites, looking back on more than 60 years of entrepreneurial experience.
---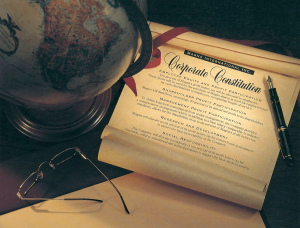 One of Frank Stronach's most significant accomplishments is the creation of a Corporate Constitution that governs Magna International Inc., the company he founded in 1957.
The Corporate Constitution is much more than a mission statement – it is the cornerstone of Magna's unique entrepreneurial culture. At the core of the Corporate Constitution is a clear-cut formula – or economic charter of rights – that allows each of Magna's key stakeholders to participate in the Company's growth and profitability.
read more: Magna Charter
---
Magna International Inc. was the base for all other projects Frank Stronach endeavored. It was the result and remarkable success story, based on his hard work and entrepreneurial acumen. Starting out as a small toolmaking workshop, Frank Stronach grew his business to become an international group, which today employs more than 155,000 people in 312 manufacturing operations and 98 product development and engineering centers in 29 countries.
In 2014 Frank Stronach said his farewell to the company he built and received the final payout for his original shares.
read more: Magna Story
---

Rescuing Evacuees from the Hurricane Katrina Disaster
In September 2005, Frank Stronach initiated the evacuation of hundreds of victims of the Hurricane Katrina disaster.
Magna founder and Chairman Frank Stronach was sitting in a hotel room watching TV news reports of the worst natural disaster in US history. Hurricane Katrina caused flooding and damage that left close to one million people along the Gulf Coast homeless and in need of food and shelter. Most of the hardest hit victims were seniors and the very poor. Watching images of homeless and helpless people trying to flee New Orleans, Frank remembered his own upbringing in war-torn Austria – a time when he was poor and hungry. Those experiences, said Frank, "are burned right into the soul."
He picked up the phone and got in touch with some of Magna's senior executives. He asked them to put together an emergency rescue plan to move hundreds of evacuees by bus and plane to a Florida horse training facility in West Palm Beach.
read more: Hurricane Kathrina Rescue
---


Magna Racino Horse Sport Center & Race Track
The Magna Racino Event Center and Race Track was opened in Ebreichsdorf, Austria, April 2004 as Frank Stronachs first race track in Europe.
read more: Magna Racino
---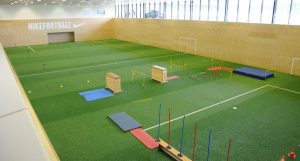 Frank Stronach, always a fan of soccer, since he played actively in his youth, in 2000 founded the Austrian Soccer Academy. This institution providing a professional training and support environment for young talents produced such renowned international soccer players as David Alaba and Aleksandar Dragovic.
read more on: Austrian Soccer Academy
---