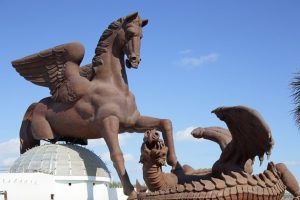 Origin & Background
In 2011, Frank Stronach, Founder and Honorary Chairman of The Stronach Group, drafted the initial rough sketch of a massive horse sculpture to honor the great contributions that horses have made to human civilization throughout history.
Five years later, the result of Frank Stronach's tribute is Pegasus and Dragon, an iconic monument that pays homage to the courage, speed and power of the horse. The monument features Pegasus, the winged horse of Greek mythology, standing triumphantly over a fallen dragon.
Structural Dimensions & Key Facts
Located on the north side of Gulfstream Park, Pegasus and Dragon is the world's largest horse sculpture and one of the largest bronze statues ever made.
The sculpture is a marvel of modern-day engineering, cast in Germany and built by more than 500 workers, then shipped to Gulfstream in 1,250 bronze sections and 4,740 pieces of steel, where it was assembled piece by piece.
Measuring 110 feet in height and 115 feet in width, and weighing more than 450 tons, the sculpture is supported by a highly complex internal steel skeleton with massive steel girders anchored deeply into the rock formations below and is designed to withstand hurricanes.
The sculpture's outer bronze layer, fastened to the steel structure in sections measuring six feet by nine feet, weighs more than half a million pounds and was fitted together with microscopic precision.
The entire bronze surface of the sculpture was then sandblasted, cleaned and given a patina application that involved heating each section with a gas torch to create an oxidation process, giving the metal its distinguished color.
An Enduring Landmark & Tourist Attraction          
Already established as a major landmark, the majestic Pegasus and Dragon sculpture will greet visitors to Gulfstream Park for generations to come and is destined to become one of the Sunshine State's most famous tourist attractions.