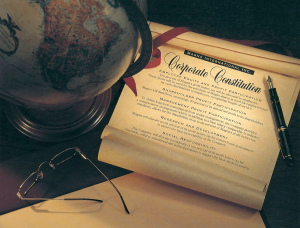 One of Frank Stronach's most significant accomplishments is the creation of a Corporate Constitution that governs Magna International Inc., the company he founded in 1957.
The Corporate Constitution is much more than a mission statement – it is the cornerstone of Magna's unique entrepreneurial culture. At the core of the Corporate Constitution is a clear-cut formula – or economic charter of rights – that allows each of Magna's key stakeholders to participate in the Company's growth and profitability.
Magna is believed to be the only company in the world with such a document. The Constitution basically pre-determines the amount of annual profits shared among Magna's key stakeholder groups, including employees, management, shareholders and society, and it makes every stakeholder a partner in profitability.
A case study published by Harvard Business School in the late 1980s analyzed Magna's Corporate Constitution and described the economic charter of rights at the heart of the Constitution as Magna's "success formula".